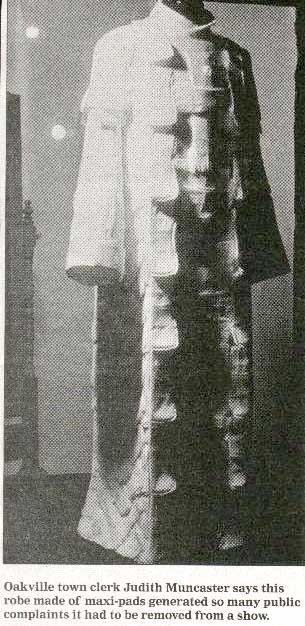 From Hamilton Spectator, October 1, 1999
Hi, Harry,
I live outside of Toronto, Canada.
There's almost a full page article in our local paper today about an Oakville, Ontario, artist who made a religious cleric's robe out of maxi pads [at left] (the work is entitled "Ultra-Maxi Priest").
The second writer sent the article below from 30 September 1999 about it from the Toronto Globe and Mail newspaper; it mentions the current flap about the exhibit in New York City criticized by Mayor Giuliani as well as Ultra-Maxi "Priest."
Title: Banned art work takes to the street
Subtitle: Maxi-pad robe deemed 'offensive'
When an exhibition of work by Canadian artists of South Asian descent opens at the Oakville Municipal Building tomorrow night, one installation piece promised by the curator will not, strictly speaking, be on view.
Ultra-Maxi "Priest" - a robe [at left] made of feminine-hygiene products by Toronto artist Tamara Zeta Sanowar-Makhan - has been barred from the town hall for being "offensive."
Instead, Sanowar-Makhan, decrying what she calls an act of censorship, will stand outside the building wearing the offending robe. In addition, she has pulled paintings and photography that she had entered in Visual Raaga, a group exhibition that runs through Oct. 7.
"I am angry because I believe my piece belongs in the show," explained the 31-year-old artist. "I want to protest against the censorship of art, primarily by the Oakville Municipal Building, and the censorship of women's issues and the right to have them discussed and made public and valued."
Meanwhile, Gillian McIntyre, executive director of the Oakville Arts Council, which helped fund the show, said "maxi pads are not personally offensive to me. But they are offensive to the people working and coming in and out of the town hall."
Oakville town clerk Judith Muncaster concurred: "We are not a gallery and any work that is exhibited here should conform to public standards. It was not a subjective action. I was acting on complaints I had received about the work."
The Oakville incident occurs in the wake of a maelstrom over art in New York this week. Mayor Rudolph Giuliani has threatened to withdraw $7-million (U.S.) in funding and possibly force the eviction of the Brooklyn Museum of Art over controversial works in a show of young British artists.
In particular, Giuliani objected to Chris Ofili's painting of the Virgin Mary, which is studded with elephant dung and cutouts of female body parts from pornographic magazines. Giuliani, a Catholic, says the painting has a strong anti-Catholic bias hat is offensive to him and other practitioners of the faith.
Sanowar-Makhan is also a Catholic and her censored installation piece includes a deliberate critique of the Church.
"The pads are symbolic," she offered. "The work is both a representation of female spiritual strength and a critique of the controlling and oppressive attitudes toward women by organized religion and specifically the Catholic Church, in which I was raised. That's why it's a priest's robe."
Originally created in 1995, "Ultra-Maxi" Priest has been exhibited previously in Toronto without incident, as well as showcased in director Deepa Mehta's film "Kama Sutra."
Still, Sanowar-Makhan is aware of the work's potential for controversy and says that during planning meetings for the exhibition in August she cautioned curator Navjot Verraich, as well as members of the OAC, that it might be too contentious for a public building.
Her concerns were quelled, she said, by OAC board member and artist Steve Hudak, who told her that he felt the work was fine. Hudak even volunteered to help her install the piece.
When reached yesterday, Hudak said he gave Sanowar-Makhan no guarantees the work would remain in the show if it raised problems for the exhibition as a whole.
"I said, let's put it up and see how it goes, if there's a problem, we'll have to take it down," recalled Hudak.