See Dr. Grace Feder Thompson's letter appealing for patients, Dr. Pierce's medical empire and Lydia E. Pinkham's Vegetable Compound.


The 20th Century Song Book, 1904, by The Chattanooga Medicine Company
Until the 1920s or so, singing and playing instruments at home took the place of radio, television, tapes, CDs and records. (Dancers danced to music boxes in the 18th century, believe it or not. Isn't that wonderful?) Representatives of music publishers hawked sheet music of the latest songs in bars and other public places.
Patent-medicine maker The Chattanooga Medicine Company, of Chattanooga, in Tennessee, a southern American state, exploited this by mingling music for popular songs with the comments of happy users of their medicine. (By the way, most of these songs struck me as very nostalgic, and include some in black dialect, hankerin' for the good ol' days on the plantation, which are easy for whites to sing. The singers on the cover are white, descended perhaps from plantation owners, not slaves. All the people pictured inside giving testimonials are also white, typical for patent medicine advertising.)
Written when the century was young, the title makes me a little nostalgic, too, for a fading era, our 20th century. Hopes were probably high in 1904, just as they are now for the 21st
SarahAnne Hazlewood generously donated the Cardui material to this museum.
Large files, long download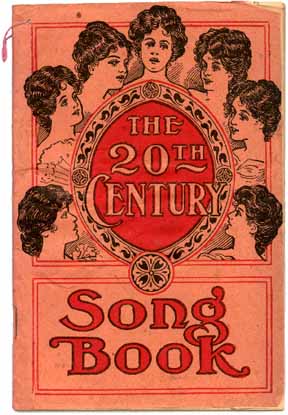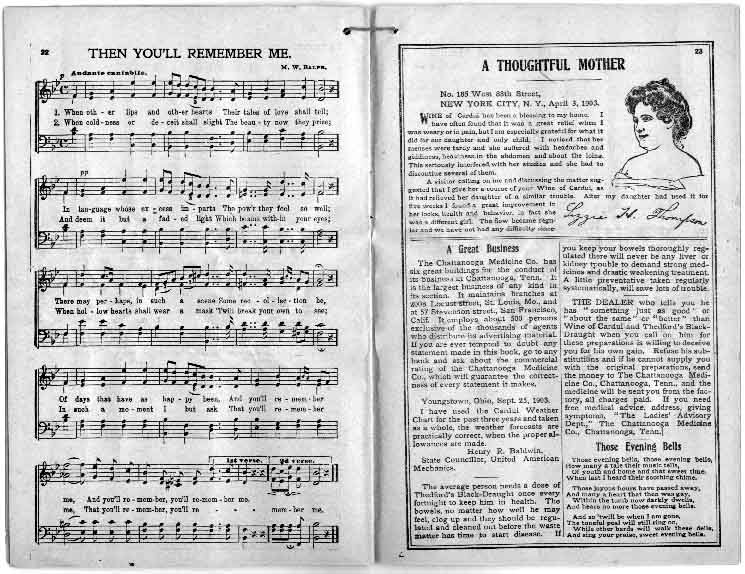 © 1997 Harry Finley. It is illegal to reproduce or distribute work on this Web site in
any manner or medium without written permission of the author. Please report suspected violations to hfinley@mum.org