Read the Dickinson report comparing tampons and pads
Read more about menstrual products safety


"Are Vaginal Tampons Prejudicial to Health?" (Proof for a British Tampax ad, 1952)
Tampons didn't really take hold anywhere - but especially in Europe - until after World War II, and there only in the 1950s. (The museum does have a box of Tampax in French inscribed by a Tambrands hand to the late 1930s.)
Part of the reason was concern about its safety - a concern we have today. The "Dickinson Report," of 1945, addressed some of these concerns and supported tampon use. But since then problems Dr. Dickinson probably never dreamed of have surfaced, such as cancer-causing dioxin and the tendency of certain fibers to encourage bacterial growth - especially that of Staphylococcus aureus, which causes toxic shock syndrome (TSS) when in large quantities (read more in the Rely tampon discussion).
Tampax, just as other companies did and still do, commissioned studies of its products, and I believe this ad shows the results of one such study. Because of the technical language and subject matter and because of the offer of "professional" samples (at the bottom), the ad probably appeared in a medical journal, showing that tampon companies had to overcome resistance in the medical community.
By the way, questions of safety are best answered by proposals such as that of Rep. Carolyn Maloney (the Tampon Safety and Research Act of 1999), who represents part of New York City in the U. S. House of Representatives. We need thorough studies of the safety of tampons, pads, cups and other menstrual products conducted by people not associated with any company. Male embarrassment in the House and scorn for women - how long did it take to get health research aimed at women? - threaten to sink such efforts. And companies lobby furiously to kill them because some of them will lose business.
Read Dr. Philip Tierno's comments on the dioxin, asbestos and TSS questions recently raised, especially over the Internet.
Tambrands, former maker of the Tampax tampon, generously gave this proof to this museum.
The proof, below, actually has very wide margins - which I trimmed - in order to give space for comments and corrections before the final version is sent to the magazine for printing.
Below the proof are enlargements of the text.


---
Below are enlargements of the text.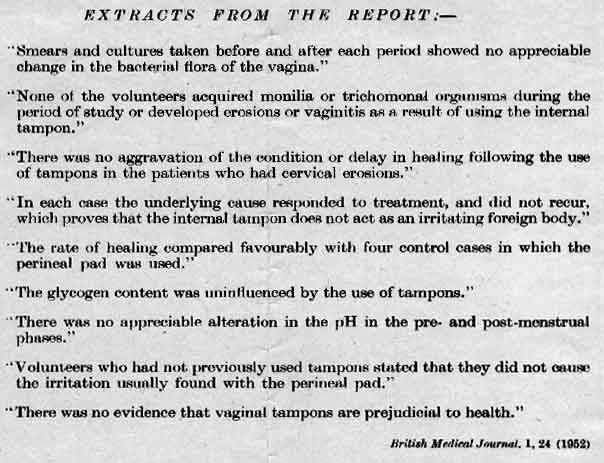 The above appears in the lower left corner.
© 2000 Harry Finley. It is illegal to reproduce or distribute work on
this Web site in any manner or medium without written permission of
the author. Please report suspected violations to hfinley@mum.org