See more Tampax items: American ad from August 1965 - nudity in an ad: May 1992 (United Kingdom) - a sign advertising Tampax during World War II - the original patent - an instruction sheet from the 1930s
See a Modess True or False? ad in The American Girl magazine, January 1947, and actress Carol Lynley in "How Shall I Tell My Daughter" booklet ad (1955) - Modess . . . . because ads (many dates).



Tiffany bowl celebrating the founding of the
main Tampax tampon company, 1986, U.S.A.
The company that celebrated its founding with this bowl was not the first Tampax company - nor the last.
Dr. Earl Haas received his patent dated 1933 for his tampon with an insertion device and sold the rights to it the same year to Gertrude Tenderich, a German immigrant (see a Tampax from about this time), who in turn sold it to a group of investors when she ran out of money, in 1936. That group became Tambrands, whose anniversary this bowl celebrates. In the 1990s, Procter & Gamble bought Tambrands, which led to this museum's receiving about 1000 items from the company's archives - a fabulous gift!
A researcher and retired teacher who has donated many items and much information to this museum generously bought and donated the bowl to MUM.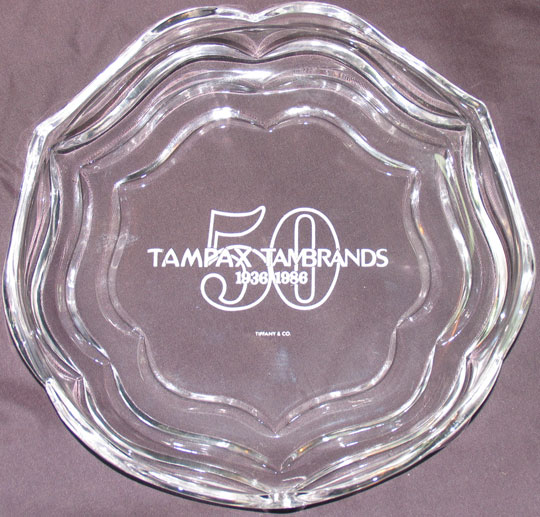 Below: The bowl measures 7.5" by 1.5" deep (about 19 x 3 cm). Below that lies the Tiffany ID.
1936 refers to Tambrands, not to the original Tampax company.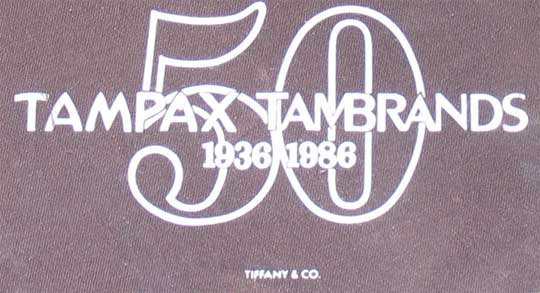 © 2007 Harry Finley. It is illegal to reproduce or distribute work on this Web site in any manner or
medium without written permission of the author. Please report suspected violations to hfinley@mum.org