See also Australian douche ad (ca. 1900) - Fresca douche powder (U.S.A.) (date ?) - Kotique douche liquid ad, 1974 (U.S.A.) - Liasan (1) genital wash ad, 1980s (Germany) - Liasan (2) genital wash ad, 1980s (Germany) - Lysol douche liquid ad, 1928 (U.S.A.) - Lysol douche liquid ad, 1948 (U.S.A.) - Marvel douche liquid ad, 1928 (U.S.A.) - Midol menstrual pain pill ad, 1938 (U.S.A.) - Midol booklet (selections), 1959 (U.S.A.) - Mum deodorant cream ad, 1926 (U.S.A.) - Myzone menstrual pain pills ad, 1952 (Australia) - Pristeen genital spray ad, 1969 (U.S.A.) - Spalt pain tablets, 1936 (Germany) - Vionell genital spray ad, 1970, with Cheryl Tiegs (Germany) - Zonite douche liquid ad, 1928 (U.S.A.)
The Perils of Vaginal Douching (essay by Luci Capo Rome) - the odor page


Kotex menstrual pad ad, U.S.A., March 1922
Enlargement of the illustration
Four interesting points in the text characterize this beautiful - just one man's opinion - ad.
1. Because they were cheap - at least to the fancy lady and her ilk in the illustration - women could throw them away, unlike the washable pads most women used in 1922 and before. The early Kotex was (were? The text also uses Kotex in the plural.) expensive, about five cents a pad - today, that's maybe 40 cents. See how Kotex tells you to toss them away.
2. Women were probably embarrassed to talk with others about buying menstrual pads. Kotex also instructed dealers to put boxes on the counter and to allow women to put money in a box next to it. Imagine doing that today! Women still are embarrassed about menstruation - surprise!
3. Nothing on the box gave away what was inside - well, um, the word Kotex eventually did, and it became synonymous with menstrual pads even through today. And when the clerk wrapped the box, something common until recently, the shape of the box, believe it or not, suggested to passersby what the unfortunate lady was carrying. Dr. Lillian Gilbreth wrote about this in 1927. Gee, I wonder what's in that box on the table.
4. And, finally, the main point, the illustration: you didn't have to wash the dang things! Another early Kotex ad features this. But some women choose to use washable pads today. See some from the first decade of the 20th century and an Italian pad from around 1890.
The ad also discusses the Kotex vending machine, still anchored in many women's public toilets.
Below: Can't you

smell

the billowing sheets? They remind me of the blowing curtains
in the living room in The Great Gatsby. The gentlelady, pulling on her white gloves,
doesn't worry about washing pads. See a lady who

does

.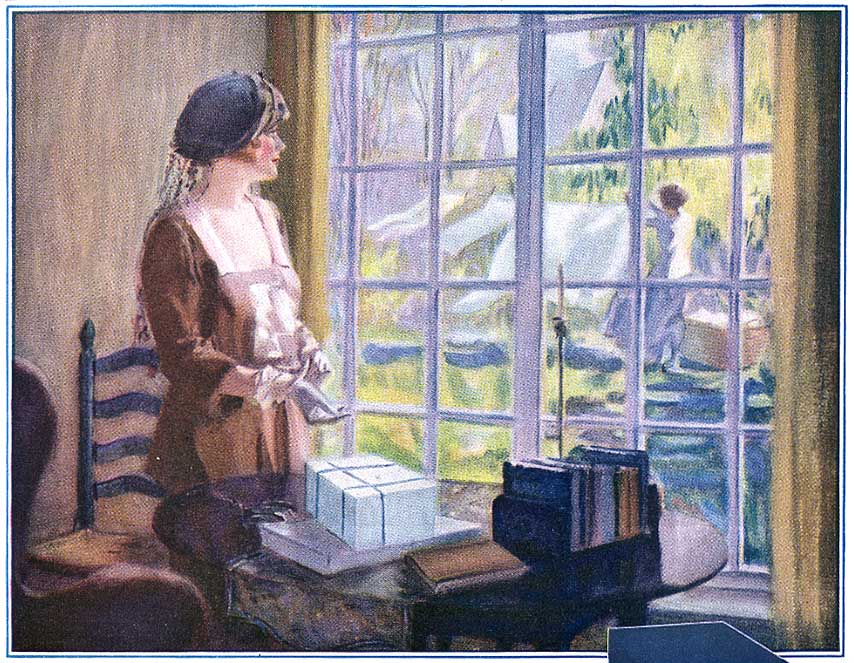 © 2007 Harry Finley. It is illegal to reproduce or distribute work
on this Web site in any manner or medium without written permission of the author.
Please report suspected violations to hfinley@mum.org