Visit the odor page.
See also Australian douche ad (ca. 1900) - Fresca douche powder (U.S.A.) (date ?) - Kotique douche liquid ad, 1974 (U.S.A.) - Liasan (1) genital wash ad, 1980s (Germany) - Liasan (2) genital wash ad, 1980s (Germany) - Lysol douche liquid ad, 1928 (U.S.A.) - Lysol douche liquid ad, 1948 (U.S.A.) - Marvel douche liquid ad, 1928 (U.S.A.) - Midol menstrual pain pill ad, 1938 (U.S.A.) - Midol booklet (selections), 1959 (U.S.A.) - Mum deodorant cream ad, 1926 (U.S.A.) - Myzone menstrual pain pills ad, 1952 (Australia) - Pristeen genital spray ad, 1969 (U.S.A.) - Spalt pain tablets, 1936 (Germany) - Vionell genital spray ad, 1970, with Cheryl Tiegs (Germany) - Zonite douche liquid ad, 1928 (U.S.A.)
The Perils of Vaginal Douching (essay by Luci Capo Rome) - the odor page


THE MUSEUM OF MENSTRUATION AND WOMEN'S HEALTH
"Vulvar Deodorant System," page 1 (pp. 2, 3) (U.S. patent 3, 948, 257 - April 6, 1976)
Companies have devised many ways to deodorize a woman's vulva and vagina, including sprays, douches, pad powder, washes (see links in the column at left and at the bottom of this page) and deodorant pads and tampons. The patent below, for a device probably never manufactured, describes a little weight designed to both deodorize and remind a woman to remove her tampon (the "flower," number 23 on the patent drawing below; flowers have a long association with menstruation - see it used in an ad for a menstrual cup - although I'm sure that was unknown to the inventor). Here the writer explains why he - yes, a man devised this, just as men seem to invent most of women's "hygienic" devices, start museums of menstruation, etc. - invented the "system."
Read the first part of the patent for a description of other deodorizing methods.
The word "system" sure is overused in America, and this is one of the silliest examples I know.
I copied this patent at the Patent and Trademark Office in the Washington, D.C., area; previous visitors wrote on it.
Read 1930s criticism of odor-killer and contraceptive fluids Zonite and Lysol.
Visit the odor page.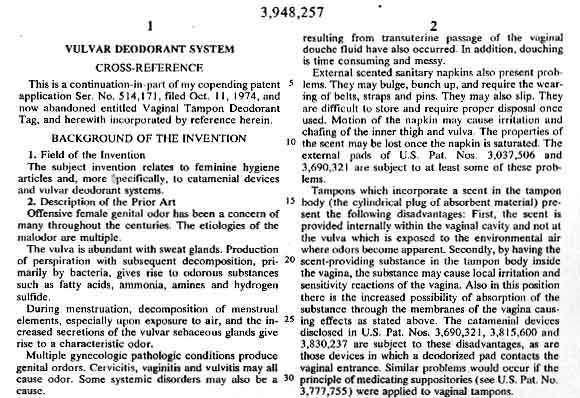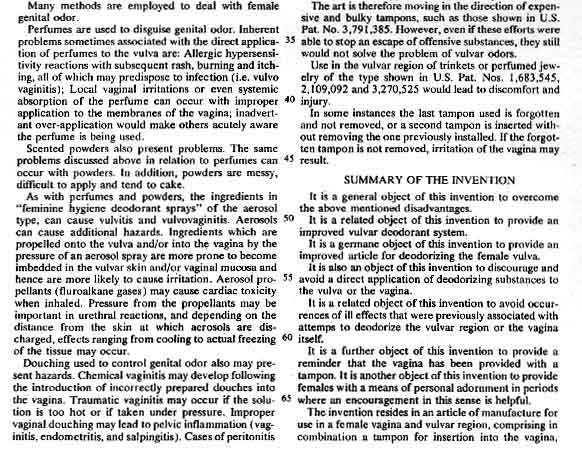 Next page - p. 3 See the main topic, Odor
© 1999 Harry Finley. It is illegal to reproduce or distribute work on this Web site in any manner or medium without written permission of the author. Please report suspected violations to hfinley@mum.org
See also Australian douche ad (ca. 1900) - Fresca douche powder (U.S.A.) (date ?) - Kotique douche liquid ad, 1974 (U.S.A.) - Liasan (1) genital wash ad, 1980s (Germany) - Liasan (2) genital wash ad, 1980s (Germany) - Lysol douche liquid ad, 1928 (U.S.A.) - Lysol douche liquid ad, 1948 (U.S.A.) - Marvel douche liquid ad, 1928 (U.S.A.) - Midol menstrual pain pill ad, 1938 (U.S.A.) - Midol booklet (selections), 1959 (U.S.A.) - Mum deodorant cream ad, 1926 (U.S.A.) - Myzone menstrual pain pills ad, 1952 (Australia) - Pristeen genital spray ad, 1969 (U.S.A.) - Spalt pain tablets, 1936 (Germany) - Vionell genital spray ad, 1970, with Cheryl Tiegs (Germany) - Zonite douche liquid ad, 1928 (U.S.A.)
The Perils of Vaginal Douching (essay by Luci Capo Rome) - the odor page