A discussion of the letter testimonials, and their authenticity, of the Pinkham company (in a discussion of a Pursettes ad with a letter testimonial)
See three letters to MUM about the ingredients of her Compound, and one about the lyrics of an English pop song, Lily the Pink, (and parody of "Yes, We Have No Bananas" from an American newspaper) about her.
Booklets menstrual hygiene companies made for girls, women and teachers - patent medicine - a list of books and articles about menstruation - videos



The Museum of Menstruation and Women's Health

Booklet
Practical Cooking Recipes (1925, Pinkham Medicine Co., U.S.A.)

I thank the donor!
Below: P. 30

P. 31

Now the booklet says OVER fifty years in contrast to the earlier 50.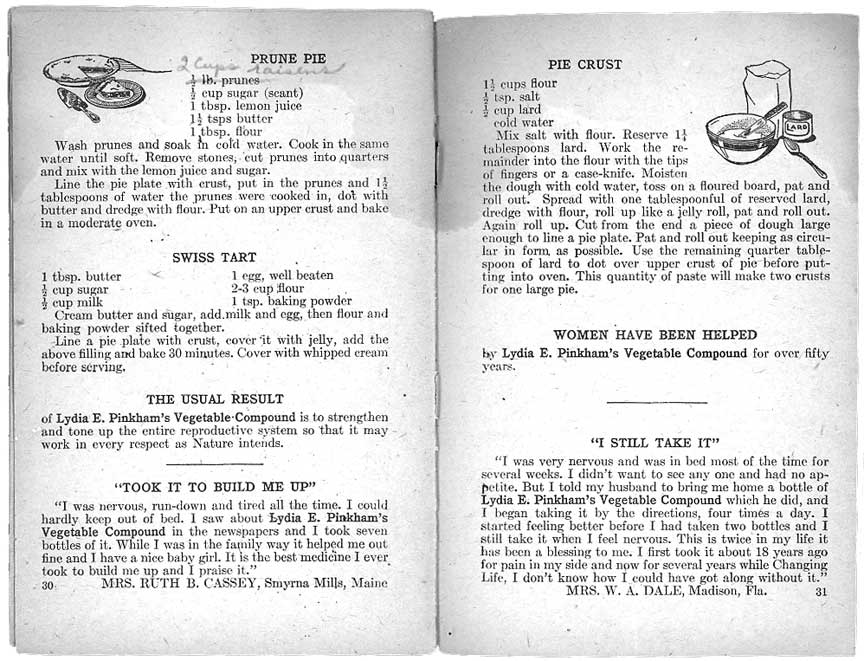 © 2010 Harry Finley. It is illegal to reproduce or distribute any of the work on this Web site in any manner or medium
without written permission of the author. Please report suspected violations to hfinley@mum.org