See ads for menarche-education booklets: Marjorie May's Twelfth Birthday (Kotex, 1933), Tampax tampons (1970, with Susan Dey), Personal Products (1955, with Carol Lynley), and German o.b. tampons (lower ad, 1970s)
And read Lynn Peril's series about these and similar booklets!
See more Kotex items: First ad (1921) - ad 1928 (Sears and Roebuck catalog) - Lee Miller ads (first real person in amenstrual hygiene ad, 1928) - Marjorie May's Twelfth Birthday (booklet for girls, 1928, Australian edition; there are many links here to Kotex items) - Preparing for Womanhood (1920s, booklet for girls; Australian edition) - 1920s booklet in Spanish showing disposal method - box from about 1969 - "Are you in the know?" ads (Kotex) (1949)(1953)(1964)(booklet, 1956) - See more ads on the Ads for Teenagers main page



Carefree Teens colored pantyliners, Personal Products, U.S.A., about 1990
Personal Products (U.S.A.) made the panty pads below, about 1990, violating a tradition in the mainstream menstrual products industry: Use White. I find it especially amazing that the side pressing against the vulva has a colored pattern, which raises the question of the body's absorbing the dyes. But "alternative" products, such as contemporary washable pads, have used colors for years, reducing the medicinal feeling of such products and making them more friendly.
I think the company felt the teenagers would be more willing to use such pads, kids being kids, but the product disappeared forever from the shelves very quickly.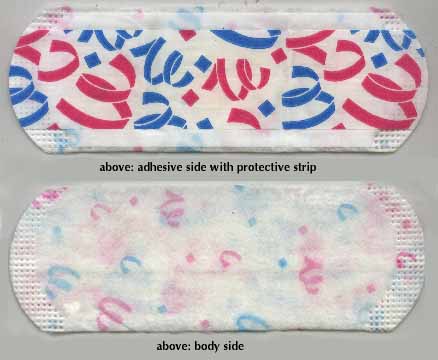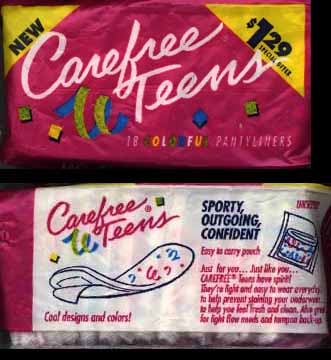 The soft package
© 1998 Harry Finley. It is illegal to reproduce or distribute any of the work on this Web site in any manner or medium without written permission of the author. Please report suspected violations to hfinley@mum.org