Kotex ad emphasizing shame, 1992
See more Kotex items: First ad (1921) - ad 1928 (Sears and Roebuck catalog) - Lee Miller ads (first real person in amenstrual hygiene ad, 1928) - Marjorie May's Twelfth Birthday (booklet for girls, 1928, Australian edition; there are many links here to Kotex items) - Preparing for Womanhood (1920s, booklet for girls; Australian edition) - 1920s booklet in Spanish showing disposal method - box from about 1969 - "Are you in the know?" ads (Kotex) (1949)(1953)(1964)(booklet, 1956) - See more ads on the Ads for Teenagers main page



Kotex menstrual pad ad, U.S.A., March 19, 1927
Detail
The blue of the Kotex box was famous - read here - and the many blank sides allowed the woman to store it easily, not letting anyone know what it was at a glance - except those who knew Kotex blue.
"[I]nsecure 'sanitary pads' of yesteryear" refers to washable pads, usually homemade, common around the world in the very early 20th century and before and still used today in America and elsewhere (India, for example). Women would wash them, sometimes after soaking overnight in a bucket of water. An African-American photographer for the Chicago Tribune who visited the museum in my house in the 1990s told me he saw washed "rags" hanging on clotheslines in black sections of Chicago in the 1950s. And Kotex was not cheap in the 1920s; the women in the illustration seem to be from "the better walks of life" Ms. Buckland mentions.
"[P]ersonal service cabinets in rest-rooms" (lower left corner) refers to the Kotex vending machine; see a pad from these machines dating from the 1930s.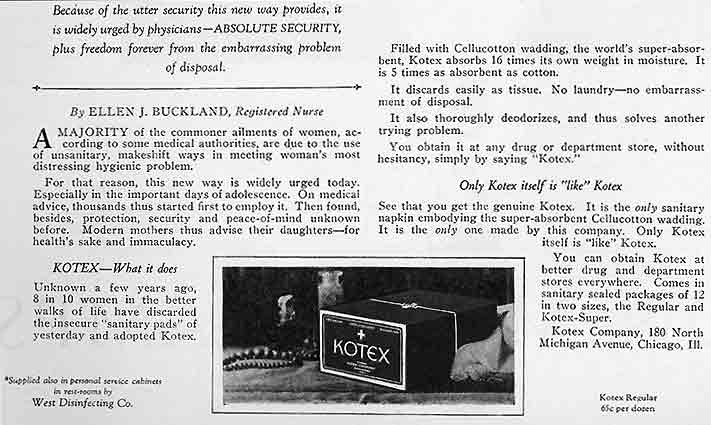 See the entire ad, small drawings, and the main illustration.
Kotex ad emphasizing shame, 1992
See ads for menarche-education booklets: Marjorie May's Twelfth Birthday (Kotex, 1933), Tampax tampons (1970, with Susan Dey), Personal Products (1955, with Carol Lynley), and German o.b. tampons (lower ad, 1981)
See also the booklets How shall I tell my daughter? (Modess, various dates), Growing up and liking it (Modess, various dates), and Marjorie May's Twelfth Birthday (Kotex, 1928).
And read Lynn Peril's series about these and similar booklets!
See another ad for As One Girl to Another (1942), and the booklet itself.
© 2004 Harry Finley. It is illegal to reproduce or distribute any of the work on this Web site in any manner or medium without written permission of the author. Please report suspected violations to hfinley@mum.org